Tuesday, 4 Jul
There are stars, streamers, balloons, bunting and flags. The Coast Guard carries the colors. A color guard from the VFW follows, grayed, bent but still proud.
Independence Day, a big day in the town of Cape Charles, Virginia. And like every small town in America, the celebration starts with a parade.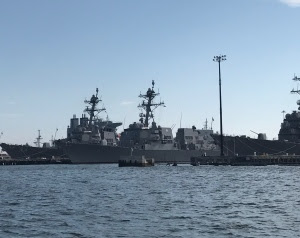 It's roughly 30 nautical miles, Waterside in Norfolk to Cape Charles Town Harbor, an inviting and popular summertime stop at the southern tip of Virginia's Eastern Shore. Timing made yesterday's crossing from Norfolk easier than it might've been. Steadfast slipped her lines at 0849 and rode an ebb current down the Elizabeth River topping out at 9.3 knots as she passed the fleet at Naval Station Norfolk.
About the same time, Martha and George left Ebb Tide aboard Quintan, the plan being to rendezvous for the holiday at Cape Charles. The two boats tied-up within minutes of each other. Crews reunited and joined those from two other boats for dinner at the Oyster Farm restaurant (at what once was known as Bay Creek Marina).
Now, strains of John Philip Sousa make their way down Mason Street. Spectators, many from boats on the harbor, line both sidewalks and applaud as the band passes. There are golf carts bedecked in blue, red and white, then Engine 6 of Northumberland VFD. Then more flag festooned golf carts—a popular mode of transportation here—kids on bicycles and skateboards, a couple of pick-up trucks. Pretty much anyone who wants to march or move down Mason Street this morning may join the parade.
There'll be a band concert later. Brown Dog Ice Cream is open today, even though it's Tuesday. And of course, fireworks tonight on the beach.
It's Independence Day, Cape Charles.
Steadfast out.